Greetings Friends and STLE Members!
I hope everyone is off to a fantastic start of the summer season!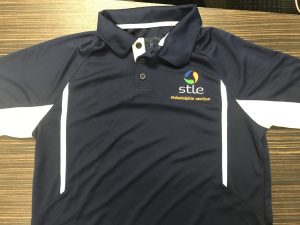 As a compliment to the warm weather, we invite you to check out these AWESOME STLE summer polo shirts custom-made for the Philadelphia Section STLE. These shirts are high-quality, 100% moisture-wicking polyester, and are a solid choice if you're getting ready to hit the golf course, or just enjoying a nice outdoor dinner.
Shirts are $40/ea. and are available for both men and ladies from small to XL – shirts can be pre-ordered here, but quantities are limited. Pre-ordered shirts can be picked up at the Philadelphia Section golf outing (June 19th). For those interested in shirts, but not planning to attend the golf outing, pick up can be arranged at the Paratherm office in King of Prussia:
Paratherm Heat Transfer Fluids
2009 Renaissance Blvd
King of Prussia, PA 19406
Please feel free to contact me should you have any questions.
Thanks,
Edward Cass
ecass@paratherm.com