Philadelphia Section of STLE Awards 7 Students at the DVSF
The Delaware Valley Science Fair (DVSF) is the culmination of the fairs at the individual schools throughout the Tri-state region for students from grades 6-12. The DVSF was held at the Greater Philadelphia Expo Center in Oaks, PA with an estimated 960 exhibits. In addition to the prizes awarded at the DVSF, the exhibitors at this fair have also received awards in the fairs at their respective schools for their categories.
On April 5th , the Philadelphia Section of STLE awarded the following 7 students, who presented projects in the DVSF, with $100 awards for their projects. The awards were given to students with posters in the "Chemistry & Environmental Science" and "Other" categories. In addition to lubrication, the posters covered topics concerning corrosion evaluation and spill remediation control among others.  Nick Ariano, Tom O'Brien and Mandi McElwain from the Philadelphia Section participated in the judging and awards selection.
Congratulations to the STLE 2017 DVSF Award Winners!!
Hannah Xiao, Grade 10, from Upper Dublin High School, Fort Washington PA
"What Additive will Decrease the Melting Point of Biodiesel?"  This project involved making biodiesel from cooking grease, then addiotizing with Ethanol, Acetone, and DMSO at various levels, and determining melting points.
Sanjit Shelukar, Grade 10, Wissahickon HS, Ambler PA.
"The Effect of Nanoparticles on the Amount of Steam Generated".  This project evaluated various types of nanoparticles in water to see the effect on water evaporation under a controlled heat source.
Gokul Perugu, Grade 8, Springhouse Middle School, Allentown PA.
 "The Effect of Scenedesmus on the Bioremediation of Oil Spills".  This project evaluated and oil degradation by various types of green algae.
Claudia Schreier, Grade 10, Marine Academy of Tech/Environmental Science, Manhawkin NJ
 "A Predictive Model for Emulsion Droplet Dispersion and Uniformity".  This project involved the study of particle size determination of emulsion droplets formed by various blades and speeds.
Paul Clark, Grade 8, Engie Middle School, West Grove, PA
 "Leaf Fuel" which measured the effectiveness of various types of maple leafs to produce fuel. 
Rutva Shah, Grade 7, Tom's River Intermediate North Way, Toms River NJ
"Does the Viscosity of a Liquid Affect the Rat at which a Marble Can Travel Through It?", which was a viscosity experiment with various household items.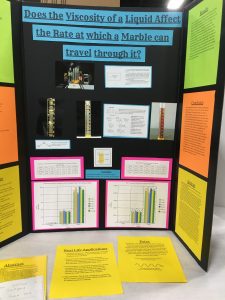 Chaelee Crane, Grade 7, North Brandywine Middle School, Coatesville PA
 for her very heartrending and brilliant project to design a better brace for her young sister, who was born with "club foot"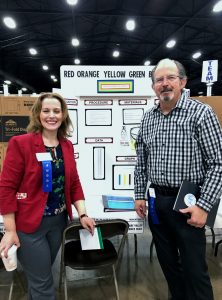 This was an excellent event for the STLE Philadelphia Section to support! The students were extremely interested in science in addition to being very familiar with the scientific method. Furthermore, the students were interested in lubrication and corrosion especially with a focus on saving our environment and finding "greener" methods to accomplish difficult tasks.
Nick Ariano   Science Fair Committee Chair
STLE Philadelphia section
215-324-4000  ext 227