STLE Section Awards Scholarship to University of Pennsylvania Doctoral Student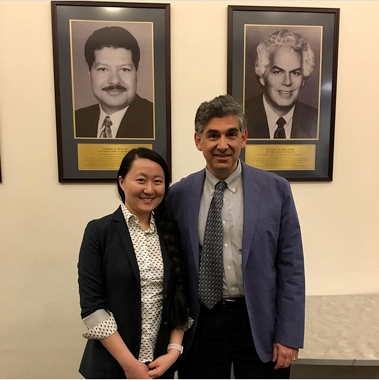 The Philadelphia Section of the STLE is pleased to award a scholarship to Jing Yang, a doctoral student at the University of Pennsylvania.
Yang completed her studies under the direction of Blanchard Chemistry Professor Andrew Rappe with STLE Member Dr. Robert Carpick serving on her dissertation committee. She is currently working as a postdoctoral researcher, working with Professor Helen Kulik.
Yang's thesis work focused on theoretical studies on the mechanism of formation tribopolymers when organic molecules are subjected to frictional stresses on surfaces. While often useful in lubricating applications, tribopolymers are major contaminants in micro and nano elctromechanical systems (MEMS and NEMS), devices under development as potentially the next generation of high speed transistors. Yang's work provided important insights into the conditions and processes by which tribopolymers form, thereby advancing the development of practical and scalable MEMS and NEMS devices.
Yang's work has yielded an impressive total of ten peer-reviewed publications in the Journal of Chemical Physics Letters and Physics Reviews. She was also recognized for the Best Paper at the annual Holm Conference on Electrical Contacts.