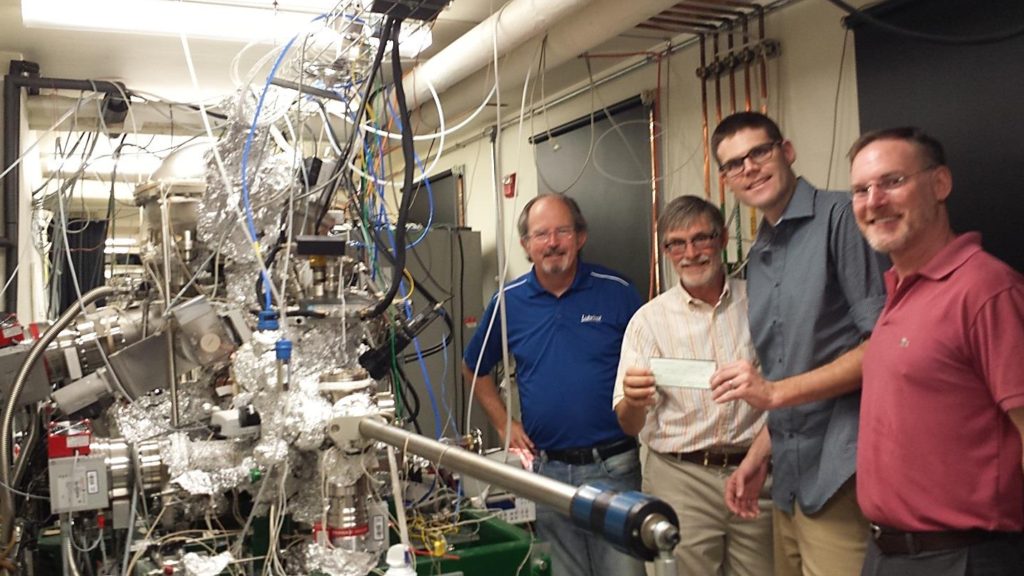 Philadelphia STLE Awards Scholarship to U Penn Graduate Student
The Philadelphia Section of STLE is proud to award University of Pennsylvania graduate student J. Brandon McClimon a $2,000 scholarship for the 2016-2017 academic year. McClimon is a student in the research group of Professor Robert Carpick in the Department of Mechanical Engineering. The Section has frequently recognized the outstanding graduate and undergraduate students doing tribological research in Dr. Carpick's lab.
McClimon's research area is the study of the fundamental lubrication mechanism of silicon oxide-doped hydrogenated amorphous carbon (a-C:H) coatings and the factors influencing their outstanding thermos-oxidative stability. He is using a combination of an Atomic Force Microscopy (AFM) and X-Ray Photelectron F Spectroscopy (XFS) with the apparatus pictured above. McClimon's results are beginning to elucidate mechanical transformation of the near-surface region during the run-in of single asperity contacts which is necessary to suppress adhesion and friction. He is also demonstrating how the silicon oxide dopants stabilize the surface using annealing studies.
Prior to joining Dr. Carpick's group, McClimon earned a BS in Engineering Physics from the University of Michigan and an MS in Engineering Physics from the University of Virginia following a tour of duty in the US Navy as an engineering officer in the nuclear submarine service.